Inge Relling is your resident property professional, specialising in Sales and Rentals

in De Wijnlanden Residental Estate &
Aan De Wijnlanaden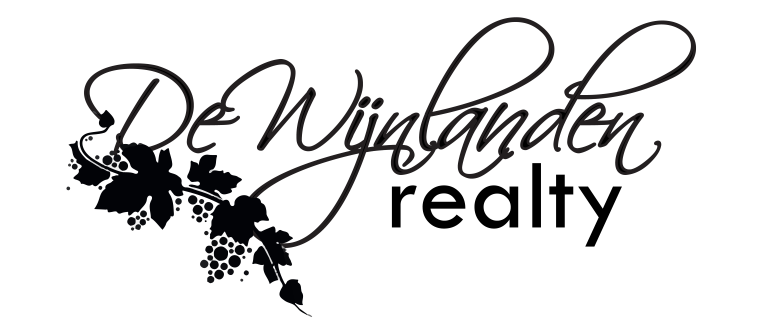 The picturesque De Wijnlanden Residential Estate is located at the entrance to the Stellenbosch Winelands, on a previous portion of the Meerlust Wine Estate. From the estate you have astounding views of the mountains and the surrounding farmlands. Stellenbosch and Somerset West are 15 minutes driving time away and it takes less than 20 minutes to reach Cape Town International Airport
The estate is protected by 24-hour security services, with a state of the art access control system.
30 Hectares of the estate comprise open spaces – consisting of 3 olive groves, a central vineyard, and open natural renosterveld parklands which are home to a herd of springbok and over 120 bird species . The peace and serenity of the walking and riding trails enable one to enjoy the expansive open natural areas, lawns and dams, and to feel at one with nature. An extensive dog-free run area also helps your furry friend to feel at home and free, in the peaceful surrounds.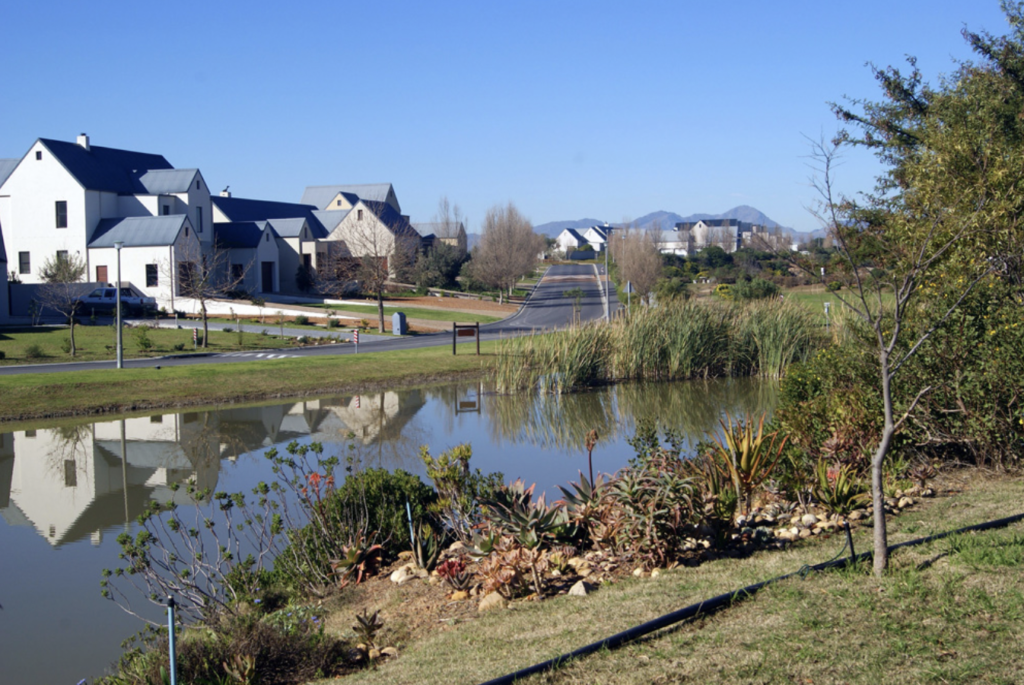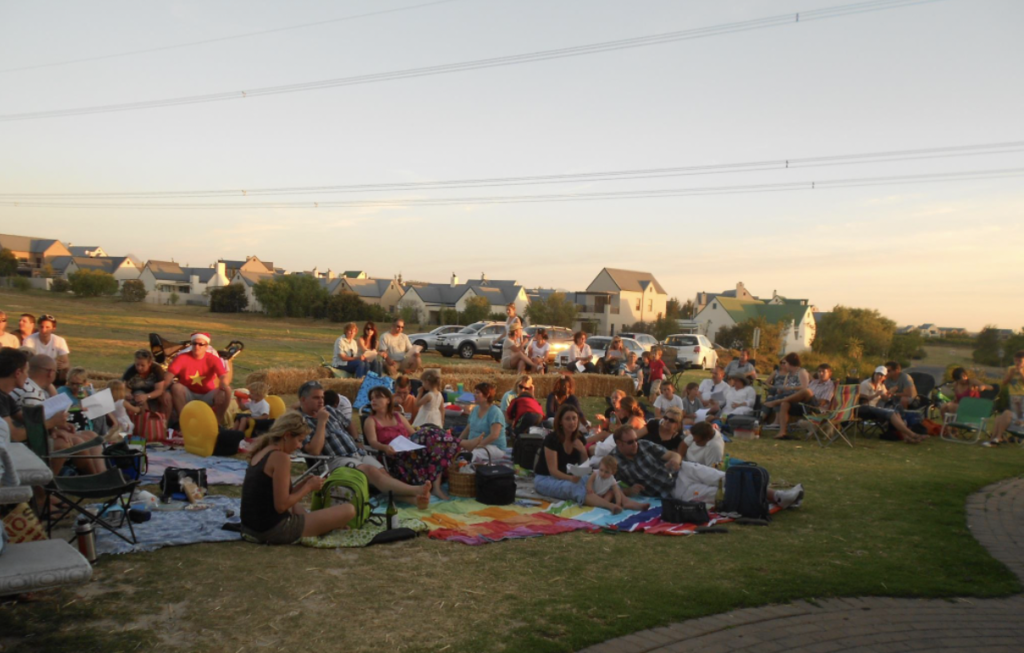 The low density of the 205 homes (4 units per hectare) represents tranquillity, and peace. The estate also hosts a playschool for the younger community members, where they can run and play during the mornings, without leaving the estate. The village spirit of the estate is further enhanced through its social activities, which follow the lifestyles of the winelands, and are designed to cater for young and old.
Many wine farms and restaurants are within 15 minutes driving distance of the estate, amongst the many other facilities and social events which the Winelands offer. These include slow markets, child friendly and specialist restaurants, many schools and of course the Stellenbosch and Somerset West Medi-clinic hospitals which are also short distances away.
The estate truly represents a daily escape to nature and peace, for the discerning homeowner and their family.
Security estates with this much open space are a true gem and rare to find!

Lifestyle: A fully developed estate with 205 full title properties surrounding a working vineyard and three olive groves.  The estate offers a tennis and squash courts with a sports clubhouse.  Cycling tracks and walking paths around the 9 dams, fit for old and young, are well marked around the estate and accessible to all residents.  There are various clubs in the estate.  Join our social squash club or access the Wannabee cycle tracks right outside our main gate.  Wine tasting and various other events are hosted inside the estate on a monthly basis. A Monday to Friday morning playschool is available to children of the estate and Extramural afternoon activities are open to all youngsters on the estate regularly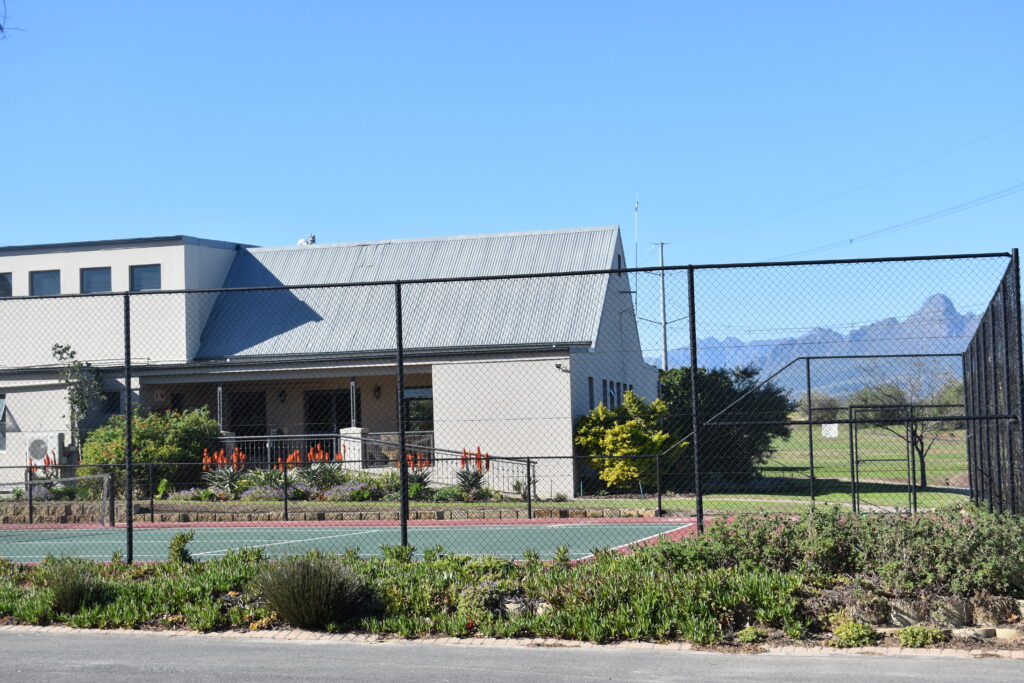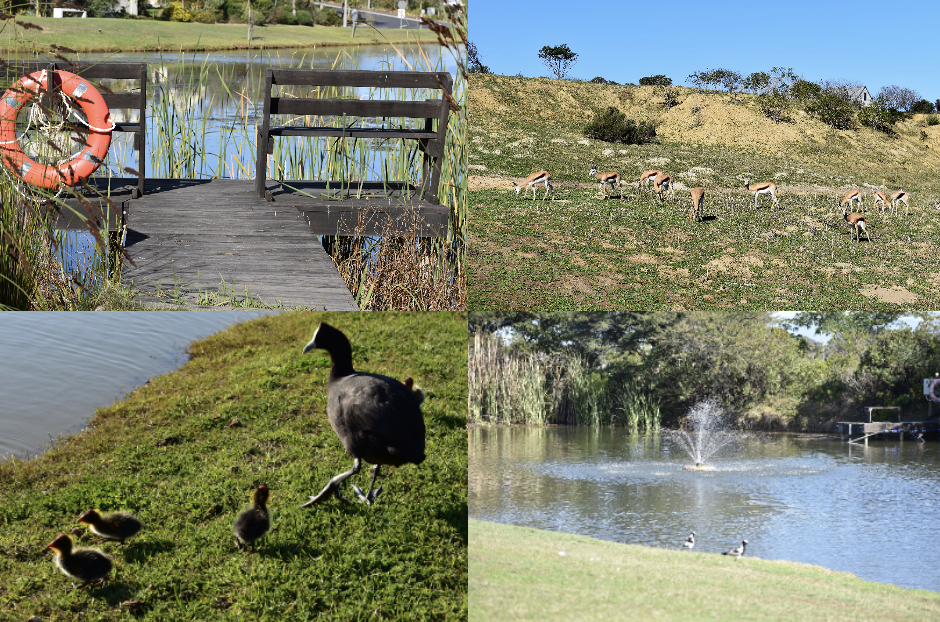 Security: The latest technology and a professional team of guards brings peace of mind to all our residents.  The estate is protected by 24-hour security services, electric fencing with anti-dig ground protection, thermal camera surveillance, and regular patrolling.
Landscaping, Flora & Fauna: Indigenous flora, well-established renosterveld, a working vineyard and olive groves are well established in the estate.  A hard-working landscaping team make sure that the entire estate is well maintained.  We have a series of dams that are used to irrigate some of the estate flora (and some social kids fishing!) These elements gives De Wijnlanden a truly individual and beautiful appearance.
Contact Inge today for all your
De Wijnlanden Property needs
Free valuations, Sales, Rentals, Bond Pre-Qualification, COCT valuation Disputes and of course good advice!